Perkins Dental isn't just about clean teeth. We want you to leave here feeling healthy, happy, and completely confident in your smile.
Modern dentistry has made natural, beautiful dental procedures easier and better than ever before. From simple whitening techniques to veneers to traditional restorative dentistry, we can take care of all of your dental needs.
Whitening
Our team uses advanced whitening systems to help bring the sparkle back to your smile. Whether you want to whiten and brighten your teeth gradually over time or are looking for instant results, we have options for you!
"Quick Fix" Whitening – Our most in demand whitening service! Whether you have a big event in your future or just want to feel more confident in your day to day life, our "Quick Fix" Whitening is highly recommended. With this professional whitening service, you'll be in & out with a bright new smile in as little as an hour!
"At Home" Whitening – Custom whitening trays made just for you! Our team will supply you with the tools you need to whiten your smile in the comfort of your own home. Wear them as needed to gradually brighten your smile, or pop them in when you feel you need a quick touch up!
"To Go" Whitening – Professional whitening, no appointment needed! Our "To Go" Whitening trays pair professional whitening with unmatched convenience. Ready to use right out of the box, these trays are fast, easy & conform to any smile!
Book your whitening visit between the months of March-June and our team will donate 100% of the cost of your treatment to charity!
Veneers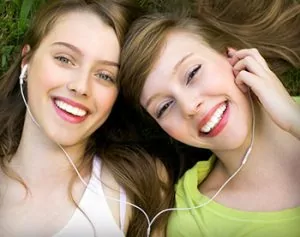 Veneers are thin, strong pieces of tooth colored material, usually porcelain, that are custom made to cover the surface of your teeth and improve your smile. A veneer erases flaws such as stains and discolorations, or small chips or gaps between your teeth. They can be used to improve minor misshapen or misaligned teeth. Veneers enhance the shape, color, length & size of your natural teeth. If your smile has minor flaws that you would like to improve, veneers may be right for you.
Clear Aligners
Clear aligners improve your smile by straightening misaligned teeth.The aligners are created using a digital impression of your smile and designed just for you. They are comfortable to wear and removable for eating, brushing and flossing. We proudly offer two clear aligner systems at Perkins Dental- Trez and Invisalign! Our doctors will study your smile and recommend the best treatment option for you. If you want to achieve a perfectly straight smile without traditional metal braces, clear aligners are a great alternative.
Facial Aesthetics & Skincare
We work to enhance the confidence of our patients daily. In addition to treatments designed to
give you a beautiful smile, Perkins Dental offers facial aesthetic treatments and medical grade
skincare to our patients to help them look and feel more youthful. As a Master Injector and
Platinum Member of the American Academy of Facial Aesthetics, Dr. Perkins has helped
hundreds of patients look and feel refreshed with treatments such as Botox, Dermal Fillers and
Radiofrequency Therapy. These minimally invasive cosmetic procedures are used to replace
lost facial volume, tighten and tone sagging skin and erase fine lines and wrinkles. To
compliment these treatments, we carry popular medical grade skin care lines available to help
enhance results through at-home skincare routines.
Call Now
To decide which products and services are right for you, we encourage you to give us a call and
schedule a private consultation with Dr. Perkins!